Matches at Udinese, AC Milan, Parma and Sassuolo have also fallen victim to the outbreak of the virus in Italy.
The games were initially going to be played behind closed doors, but Serie A took the decision on Saturday morning to call them off.
All five fixtures have been rescheduled for Wednesday, 13 May.
As a consequence, the Coppa Italia final, which was scheduled for the same day, has been moved to the following week on Wednesday, 20 May – four days before the end of the domestic season.
Doubts over Euro 2020, World Cup & Olympics qualifiers
UAE Tour cancelled over coronavirus
Coronavirus' impact on sport – timeline
Coronavirus and sport – what next?
What is coronavirus?
Four of this weekend's five postponed fixtures were due to take place on Sunday with the match at Udinese due to kick off on Saturday at 17:00 GMT.
Italy has put towns in the north into lockdown after more than 300 people were infected, 12 of whom have died.
It follows last weekend's disruption when four Serie A games in Milan, Bergamo, Verona and Turin were suspended and Serie B side Cremonese drove 300 miles to Ascoli, only to be sent home upon arrival.
Then on Thursday, Inter Milan's Europa League victory over Ludogorets was played behind closed doors at San Siro Stadium.
This weekend's games at Lazio, Napoli, Lecce and Cagliari will go ahead with supporters as normal, but Sampdoria's match on Monday is yet to be decided upon.
Victory for Lazio against Bologna would move them to the top of the table, two points above defending champions Juve, who have won the last eight titles.
On Saturday, France announced a ban on indoor gatherings of more than 5,000 people to prevent the spread of the virus and Sunday's Paris half-marathon was cancelled – but football matches were not affected.
Serie A matches postponed: Juventus v Inter Milan, Udinese v Fiorentina, AC Milan v Genoa, Parma v Spal, Sassuolo v Brescia
Serie A matches to be played with fans: Lazio v Bologna (Sat, 14:00 GMT), Napoli v Torino (Sat, 19:45), Lecce v Atalanta (Sun, 14:00), Cagliari v Roma (Sun, 17:00)
Still to be decided: Sampdoria v Hellas Verona (Mon, 19:45)
Has coronavirus affected the Premier League?
Newcastle and West Ham both announced on Friday that handshakes had been banned between players at training, on the advice of their medical teams.
But all teams took part in the pre-match handshakes before Saturday's kick-offs in the Premier League.
Southampton boss Ralph Hassenhuttl did say the club had told players not to sign autographs for fans.
"I still hope this virus will not be that big. You have to keep your hands clean and try to avoid contact. Let autographs go," he said after Saints lost at West Ham.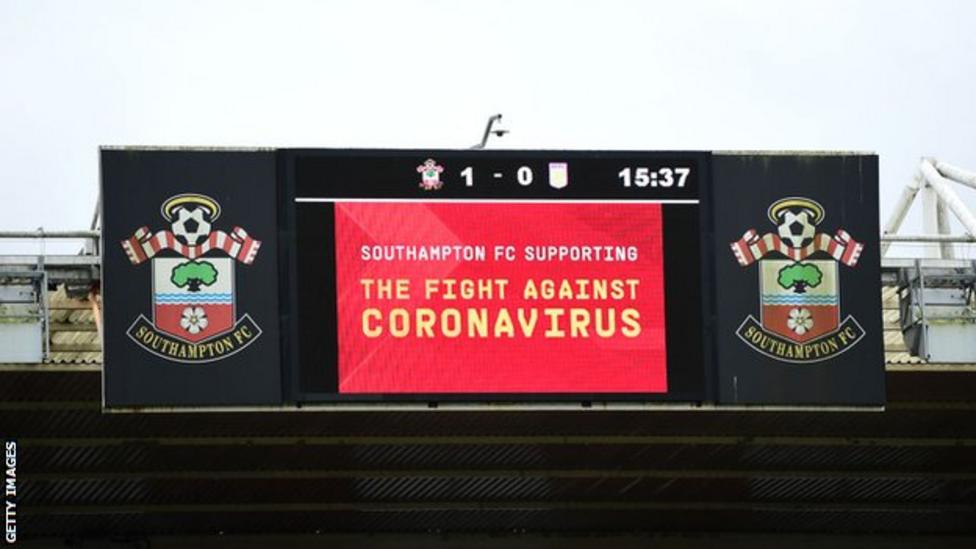 The Premier League says clubs are following the same NHS and government advice issued to all businesses and venues which are used by large numbers of people.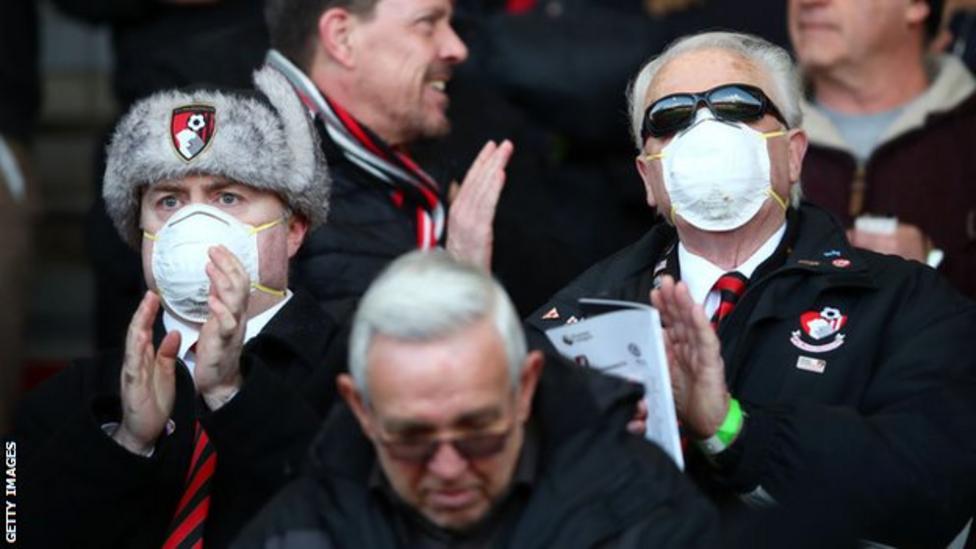 'People's health is more important than any game'
With confirmed cases of the virus now on every continent other than Antarctica, Fifa president Gianni Infantino has not ruled out next month's international fixtures being postponed.
England and Wales have friendly matches, while Scotland, Northern Ireland and the Republic of Ireland play Euro 2020 qualifiers.
"People's health is much more important than any game," said Infantino.
And while the 49-year-old remains hopeful there will not be too much disruption, he added: "I wouldn't exclude anything at this moment.
"That's why we have to look at the situation and hope that it will decrease rather than increase. At the moment it looks like it is still increasing.
"If games have to be postponed or played without spectators until it is over, then we have to go through that."
Season opener of World Triathlon Series in Abu Dhabi postponed
The opening event in the World Triathlon Series in Abu Dhabi, which was due to take place from 5-7 March, was also postponed on Saturday.
Organisers said the action was taken as a "precautionary measure" after a number of new cases were reported in the city, but they hoped the event could be rescheduled for later in March or April.
The postponement follows the cancellation of the final two stages of the UAE Tour on Thursday, when two members of staff on the race developed symptoms suggesting they could have the virus.