Tyson Fury reached the top, Anthony Joshua went from novice to champion and Carl Froch led the way in what boxing may one day call 'the stadium era'.
The decade that will shortly draw to a close featured the biggest pay-per-view bout in history and saw women box at the Olympic Games for the first time.
There was rivalry, hostility and controversy aplenty but when all is said and done, the 5 Live Boxing team believe three men shaped the 2010s.
If belts were handed out for 'Fighter of the Decade', here's who Mike Costello and Steve Bunce think would have one around their waist.
British fighter of (first part of) the decade – Carl Froch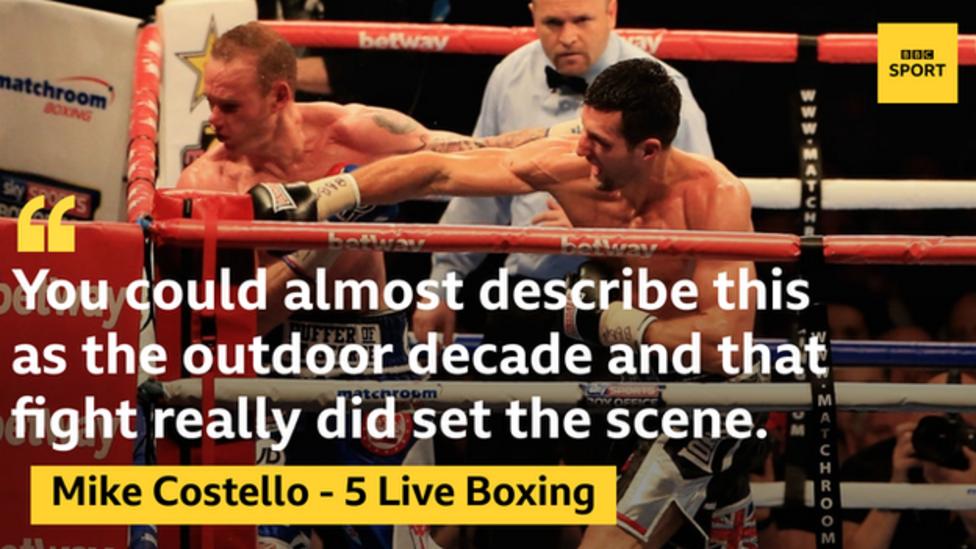 Carl Froch's decade did not start too kindly when a volcanic ash cloud looked set to stop him flying to face Mikkel Kessler in Denmark early in 2010.
By the time a private jet came to his and the bout's rescue, 'The Cobra' had indulged himself with a barbecue and fizzy drinks having written off any prospect of fighting. He lost to the Dane, waited three years and gained revenge in a rematch.
George Groves stepped up next for a thrilling contest Froch won controversially, leading to a 2014 rematch that heralded a new dawn for British boxing.
"That was only the second time Wembley Stadium had been used since Henry Cooper fought Muhammad Ali in 1963," recalls 5 Live Boxing analyst Bunce. "The other was Frank Bruno against Oliver McCall in 1995.
"Now it's been like a revolving door on the stadiums for us."
Costello says the right hand that knocked Groves out ranks among the "punches of the decade". It was the last punch of Froch's career and ensured he bowed out as a world champion.
"That was a really important fight, not just for British boxing but the global scene," says BBC Sport boxing correspondent Costello. "You could almost describe this as the outdoor decade and that fight really did set the scene.
"After the first Froch-Groves fight, promoter Eddie Hearn tweeted 'who fancies Froch-Groves II at Wembley Stadium?' He got tens of thousands of responses and that made him think it was feasible. The germ of that fight was made on social media. The link between Froch and Hearn was influential in how the decade has gone on to play out.
"We've now had Joshua outdoors against Wladimir Klitschko, against Alexander Povetkin and under the roof at the Principality Stadium twice. Carl Frampton has fought outdoors twice in Belfast, Kell Brook did at Bramall Lane and Josh Warrington at Elland Road.
"Looking back on Froch's career there's no doubt he was the British fighter of the first half of the decade.
"He had two defeats. He lost to Kessler, but came back and beat Arthur Abraham. Then he lost to Andre Ward and beat Lucian Bute. The two performances of his career came after defeats. That is the make-up of a very special character."